Learner Profile Booklist – Upper Primary Collection
+
TRAILBLAZER COLLECTION
Ultimate learner profile posters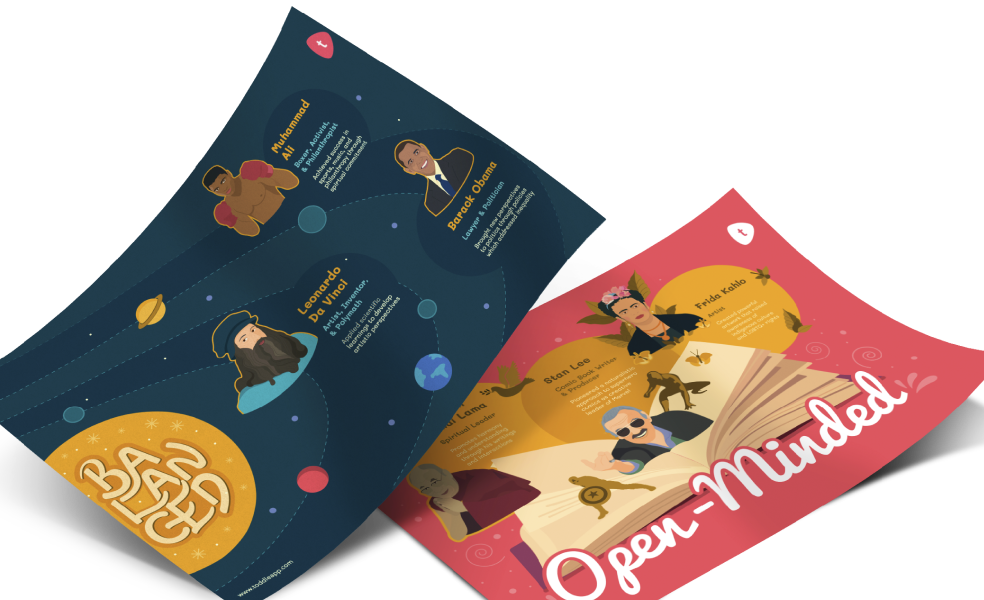 Please rectify the errors in your form
The Scholastic Kids and Family Reading Report indicates that 83% of students aged 6 – 17 love being read to, and yet less than 1 in 5 parents of children aged 9 – 11 read to them.
Even though upper primary students are often confident and competent readers, it's still important for teachers to read aloud to them frequently. This is a great time to choose books that will provide thought-provoking discussions around learner profile attributes, while also focussing on international-mindedness.
Students in Upper Primary question their values as they mature. Books provide a safe and inclusive space to have discussions about larger issues while maintaining an air of comfort for the students. In the current reality of the COVID-19 pandemic, it becomes a great time to encourage our upper primary students to think of their larger role as international citizens and books become a great way of encouraging these connections.
My approach while creating this booklist
This booklist consists of both classic and new-age children's literature. While making this list, I made sure to look for books that tied back to concepts addressed in many schools' programmes of inquiry – such as peace and conflict, and environmental sustainability.
There are books about migration, refugees and dealing with culture shock as well as books that present coming of age stories that deal with dilemmas around values and friendships. In addition to genres introduced in the earlier book lists, I've added several fantasy books and historical fiction, as well as a graphic novel.
In addition to fiction, there is also a sharp focus on non-fiction genres like memoirs, biography and books that are based on true stories. They give students a chance to explore difficult emotions and can help them accept their feelings and that of others. It will also aid them in opening and openly communicating their emotions.
Many of the books in this list have been translated into different languages – making them accessible to our EAL students.
Classroom strategies
Author Michael Rosen advocates that teachers should continue to read to their students well into their teens. When doing read alouds with older primary children, I often make the sessions interactive especially when the books are heavy with dialogue. I narrate the story and have various members of the class read the speeches of the characters in the story. This makes it an immersive and engaging experience for students. When students read aloud, they develop their speaking skills. This is important because the way we speak is very different from the way we write.
In order to write continuous prose we need to be immersed in it, and the best way to do that is to hear it read out loud. If the text is challenging, reading aloud helps students by allowing their short-term memory to focus on comprehension. I find that book groups are very effective, students can read a book in small groups in their class. Sometimes this is guided reading, where students are put in groups according to their reading levels, and other times it is more interest-based such as an online book club.
I've also worked with teachers who got involved in the Global Read Aloud where teachers chose a book to read with students during a 6-week period. They later connected with other classes to discuss it virtually.
Another great strategy I've used is to have older primary students buddy up with a class of younger students to read books to them. If the focus is on the learner profile books, the older children should be familiar with the attributes and should talk to the younger students about how they associate themselves with the attributes.
Strategies to use these books effectively
To make reading inclusive for all learners, consider using audio books. These help second-language learners and struggling readers access literature and enjoy books. Studies show that combining print and audio increases recall by 40% over print alone.
Encourage metacognition and have students come up with questions before and after reading to increase their comprehension.
Graphic organisers may act as useful tools to help students process information visually and spatially.  While reading, you can also ask students to jot down anything they don't understand or want to discuss later on a sticky note.
To ensure that students are applying the Learner Profile Attributes lens while reading, let them be inspired by the work of community trailblazers who embody the attributes. You can use these Learner Profile Trailblazer posters to spark student interest. Let them discuss what it might mean to live the attributes before they start reading.
If you're teaching remotely
With careful planning, you should be able to mimic much of what you do in the classroom, for remote learning too. Encouraging metacognition by asking questions before and after reading, can be executed easily through remote learning too. For example, on Toddle –
Share the book you will be reading with the class a few days ahead of beginning the exercise. You could also share a schedule for when each chapter will be read so students are prepared for the learning.
This schedule could go out with a few thinking questions as provocation before the reading begins.
Vary how students will read- You could read a few chapters using Toddle's audio recording functionality. Students could partner with each other to read or even read independently.
Throughout the reading exercises, encourage metacognition and comprehension by using Toddle's classroom discussion feature to ask questions and allow students to discuss their thoughts on questions with each other.
You can also give students thinking prompts to answer after they've read the book. Students can write their reflection on Toddle and share it on their portfolio.
Reading is a skill that our students will take with them all through their lives. By actively picking works of fiction and non-fiction, like those suggested in this list, we could instill the IB Learner Profile Attributes in our students, fostering international mindedness.